August 8th is one of my yearly personal vacations.
4 years ago to the day I was cremating my father in New Hampshire. My brother had called me in Columbus, OH and given me the news, and as he was young, I just dropped what I was doing and hopped in the Challenger and sped the whole way through without sleeping.
While there I traveled to Portland, Maine about 3 hours out to clear my head and walked right into a scene from Alice and Wonderland, at a little bar in the oldport, called Ri-Ra's. I won't talk about that scene, yet, because it wouldn't make sense to.
14 years ago to the day I was scouring Portland, Maine on what was originally my wedding day, trying to find out about the status of the baby we had conceived.
The baby's name, if it had been a boy, was to be Malachi Alexander, though, there was some argument over that with my fiance. If it had been a girl she would have been named Penelope Rose — and I think I was winning that argument. Both are beautiful and regal names still, I think.
I had been hoping for a boy, and some of the letters my fiance and I at the time had spent the previous months writing to our future kid were addressed to a boy.
Whether Malachi, or Penelope, or something else, they'd be around 13 today and incredibly loved.
So what happened 14 years ago….
Well, we had been having some trouble recently as the wedding day drew closer and things came to a head in our tiny little apartment with a sun roof in Falmouth, Maine. We were renting from a gal named Tina, who hired a company to mow the lawn. The guy they sometimes sent out was a guy named Garth who I remember tried to come into the house a couple times without being invited while I was there, and I remember when I put a stop to it, it caused a huge stink. I just wasn't comfortable with some strange man coming into the house where we were nesting before our wedding.
My at the time fiance's name was Courtney. I remember being in the dorms at the University of Southern Maine under a co-op program with Southern Maine Community College, when we met and had initially fallen in love. Back then I was a little more in shape, and quite confident, and I had a strong interest in information systems technology. I was just becoming attuned to the fact that the world runs on the flow of information, and had an almost autistic fascination with information pipelines.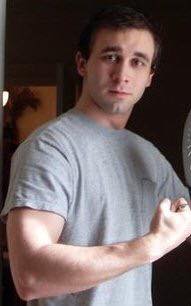 I was a student known for a degree of mischief, and she was a nanny for rich couples, notably comedian Bob Marley, and her father was a recently retired Lt. Colonel in the United States Air Force, who negotiated a promotion to Colonel as part of the terms of his retirement for a nice little bump in pay. He was in reconnaissance, which I had always found fascinating at that point in my life. My father was a PhD in Psychology, minor in philosophy, from Colorado State University, and his career revolved around teaching as a professor, until, in recent years, serving executive functions as the VP at various colleges while teaching psychology to keep it up. Her mother was a nurse practitioner and mine was an artist.
The night we met, I had invited her out for coffee and we decided we were both content with a Dunkin Donuts drive-through. We took her car. Along the way she pointed to a Fazoli's she used to work at. She ordered a medium coffee, with 3 cream, 2 splenda. We chatted the whole night through in my dorm room and then it was time for her to leave. I walked her to her car, and that was that, until, maybe an hour later we texted each other and after a short exchange we decided we were not done yet for the night, and she came back out.
At first it was a beautiful life and this went on for some time.
Some time later, due to financial issues I was running out of options to pay for my schooling, so, I transferred to a much cheaper college in that same network, Eastern Maine Community College. At the time I was still working "kid jobs" and had no idea what a career job even looked like, so, there was a brief stint at McDonald's, then a couple of other food service jobs that weren't really paying. So it was "student loans or go home". So I packed up and moved to Bangor, Maine, and continued my education there.
Courtney was surprisingly okay with it and we found a way to make it work for some time.
Then later on, at some point we were discussing her father, who was joking that "I should just join the Air Force and get married if we miss each other so much". It made sense. So, I proposed a week later using my grandmother's wedding ring, on a black, cheap walmart rug on my dorm room on her next visit up.
She said yes, we both came to tears, and then we bumped our heads together trying to kiss to seal the deal.
Then, as time went on, the USAF came in. The string attached that eventually surfaced was that I was indeed to join the United States Air Force, come hell or high water, which, was not a hard reach for me as I was still shrugging off some of the identity conditioning from being a JROTC (USAF) student in High School, and had no idea what to do with my life at that point. My room mate, Josh, liked the idea, and we talked him into enlisting too! Everybody's joining the Air Force, guys! My student loans were running out with my ability to secure more dwindling, so, it was a great option.
I wanted to do a little lovenesting first, so, the plan was for Courtney and I to move to Falmouth, Maine (where her parents lived), first for a bit and this would give me time to get in good shape for basic while studying for the ASVAB. I was leaving school to do this, and hey, the recruiter said I could finish school on the dime of the USAF later. Good plan.
I spent that summer shoveling snow off the top of buildings in Northern Maine and saving every dime I had to cover the move. I bought a cheap, rusted-out white Buick to get me by that I eventually drove to Falmouth at the end of that winter. Courtney waited patiently for me in Falmouth.
Then one day, I pulled up in my rusty white Buick to Falmouth, and we stayed at her parents for two days, separate rooms of course, and then went shopping for our nesting ground. We settled on Tina's place, which I mentioned earlier. They even mowed the lawn for us.
At first it was a beautiful life. The kind of beauty anyone would swallow a lie or two for.
Skipping a whole lot of scary bullshit that I was too young to understand, this ends with Garth turning out to actually being an affair she was having at the time, me being bombarded by an extensive smear campaign that went on for years — to cover up that as well as the fact that she was embarrassed about killing our unborn baby in an illegal late-term abortion (as her very conservative parents had many problems with her first abortion before we met when she was 15 and her mother would have disowned her). I can only describe her actions during those days as a very calculated form of psychological warfare and unbridled malice. I eventually tracked the baby piece down to having taken place at 18 Ocean Street, in South Portland, Maine, a place that is now refurbished as a restaurant but I think at the time were dentist offices.
Along the way she was diagnosed by a therapist she had been seeing with Narcissistic Personality Disorder, and I was advised by that therapist to protect myself from her and to get away from some kind of untold destruction, which I did not listen to.
Everything around me had turned out to be a carefully spun web of lies, and the giant spider that was now wearing my fiance's skin was trying to eat me. Her favorite colors and nickname changed while I was moving around the country repeatedly to get away from her for years after a brief period of very adamantly and desperately trying to understand what was happening, and in particular, "where is our baby"?
Then the lies came in full blast. It came from everywhere. I couldn't get away from it.
After some time of being away in a different part of the country (I moved to Northern Maine (Presque Isle) for a bit, and then to Bristol, Tennessee eventually to get away from the things she was saying), some time in 2012 she engaged in what's called "hoovering" to try to suck me back into her sphere of influence with a flimsy apology for lying about me so extensively, and we had a correspondence which basically ended with her telling me in a very childish way that she had changed her mind about not keeping the baby after taking the chemicals to abort our child, dispelled it into a toilet, and then kept it in a children's sip cup from her car shaped like a frog, because it was the only container around and she was unable to flush it.
At the time she was living with her sister Melissa and her niece, Bella, who was still a toddler.
Courtney placed the sip cup in the refrigerator. She then went on to explain that Bella had at one point grabbed the sip cup from the fridge and started to drink from it, unaware of what was inside before it was taken from her.
She then labeled a glass jar for a Halloween party decoration at her sister's house as "spawn of satan", transferred the contents of the sip cup to that jar, and only her and her sister knew that it was real, in kind of an old world alchemy lab aesthetic for the party. She also described it as being funny to both her and her sister, and that at one point her sister was pressuring her to perform a dissection on the body using makeshift medical utensils as Courtney was at the time pursuing a medical degree (she had gone back to school, I did not have the money to at that point).
This was my last real correspondence with her as she cut off all contact again shortly after I became enraged by the story and started asking questions to piece the details together, but at some point I hired private investigators to research the story as I was completely destroyed by these events for years and needed an outside person to piece parts of it together, and, per my last check, Courtney had an active warrant for her arrest for fraudulent activities in the state of Florida, with case number 5715MM010181A.
During my investigation attempts I met several others who had the same story to tell about her (sans baby of course). The first of them that I found was a man named Jared who she had smeared all over the internet with false claims of abuse, which her sister also participated in. The lies that she was telling about him were obviously false and years old but were jeopardizing Jared's custody battle over his children. I hired various services to provide resources to Jared to have the defamatory content removed and we remain distant friends. I am in possession of a longer list of similar people targeted all following a similar pattern; some of whom I have been able to help, some of whom are not yet aware of the nature of their situation.
14 years ago today would have been our wedding date. I do not regret having not married the Spider of Yarmouth, but I take today to provide a quiet respite to myself out of consideration for Malachi, or, Penelope — I'll never know which.
If you're wondering if I'm still angry at everyone involved, well sure I am. I seethed for years. I have PTSD from it and almost lost the battle recovering from it at one point. During the initial campaign I ended up in the ER a few times due to stress-related injuries on my spine.
As the years went on I'd have flashbacks, sometimes. I still have memory gaps. I'd get drunk and start auditing my account of events. Sometimes I'd lash out. But mostly, I just seethed, cooking in my own anger.
This much older version of me has mostly recovered from these events, but they did ingrain in me a deep need to see justice in the world, and protect others in similar situations. The law could not help me, but it is not the only justice there is in the world — merely a place where it is prone to be.